How Guaranteed Income Can Help Lift Families Out of Poverty

United Way Bay Area (UWBA) has a 100-year history of convening individuals and organizations within communities to have impact on the fight against poverty.  On September 29, 2022, UWBA hosted the first of its United for Equity Community Partner Convenings. This one took place at the William E. Walker Recreation Center in Foster City. The event gathered community partners, elected officials, and organizational representatives from across the Bay Area to discuss guaranteed income (GI) and compare aspects of the various GI pilots currently happening in the Bay Area.
Our opening panel of experts and organizers representing GI pilots from Oakland, South San Francisco, and Mountain View presented to the community the frameworks for their respective GI pilots and the data that is beginning to emerge showing the impact of basic income on poverty itself.
Panelists included:
Here are key takeaways from that discussion.
I. Universal Basic Income vs. Guaranteed Income
While the idea of basic income isn't new, it found its way back into the popular conversation when then-candidate Andrew Yang, hoping to win the 2020 Democratic Primary nomination, ran with Universal Basic Income (UBI) as a large part of his platform. The basic concept is that UBI would be a government-sponsored program in which every resident receives a flat monthly payment – the goal of which is to help relieve a bit of financial stress and create enough breathing room to allow residents to focus on education, job skills and career readiness, and/or basic needs.
While UBI payments go to all eligible residents, GI would provide income to targeted groups based on financial necessity, hopefully ensuring that those with the most need receive the aid.
II. Income is Overwhelmingly Used for Essential Services
"We prioritized foster youth, single-parent households, and those who didn't qualify for other benefits… [it] was specifically for those that were hit hardest by the pandemic." – Mark Nagales, South San Francisco Mayor
When the topic of GI comes up, a common concern or critique of the idea is that the money will be wasted, assuming the individuals and families w
ho receive it will use it frivolously. According to the data coming out of the South San Francisco pilot, this couldn't be further from the truth.
What Mayor Nagales and Director Sobalvarro shared was the top 3 categories participants used income on were rent, food, and utilities – "basic essential needs to survive."
"I don't want to hear anymore that they're going to use the money for drugs or alcohol. That's not what the data is saying. It's saying they know the most responsible way to use it. They're going to use the money for essential needs. This data proves it." – Mark Nagales, South San Francisco Mayor
The South San Francisco findings echo those of the earlier Stockton basic income pilot, on which this one is based. There, not only did they find participants using the money for essential needs and services, but they also found a statistically significant improvement in emotional health over time and compared to a control group.
As Oakland Mayor Libby Schaaf, who helped bring a basic income pilot to Oakland, says, "[GI] is better than Prozac." You can hear more of Mayor Schaaf's thoughts on GI from our recent Brunch and Ballots event, where she discussed basic income, policy, and the importance of voting.
All of this underscores the larger idea that families are the experts in their own lives and don't need to be told how to use their income, which is something the SSF model considers specifically.
"I've grown up in South San Francisco my whole life, and so I feel a personal connection to the programs specifically. It was a surreal experience to sit in the rooms with the participants… Having conversations about banking for the first time and looking at very limited job options, was both heartbreaking and beautifully impactful to see the resilience of the community." – Elida Sobalvarro, YMCA of South San Francisco
III. Participants Work Better, Not Less
Another point that is being proven by those piloting GI, is participants are not working less or skipping out on work. Rather, they are being given the space to acquire more job skills and search for better jobs with more favorable working conditions and/or pay. They are also able to find employment that better suits their family needs. In some cases, this means going from part-time work to full-time, in others it means taking classes or completing certifications needed for employment. GI also allows for some to take care of childcare expenses freeing up their time to be employed full-time.
Why it Matters
A panel of UWBA Ambassadors gathered to close out the event. Ambassadors have lived experiences with UWBA programs and/or services and now utilize their experiences for advocacy and to keep community voices at the center of our initiatives. Moderated by Ambassador Juan Salinas, panelists, including K. Rose Kilgore, Rachel Reese, Sui Yip, and Russell Brautigam, used their lived experiences to further drive home how GI models can support autonomy and financial stability in dignified and equitable ways.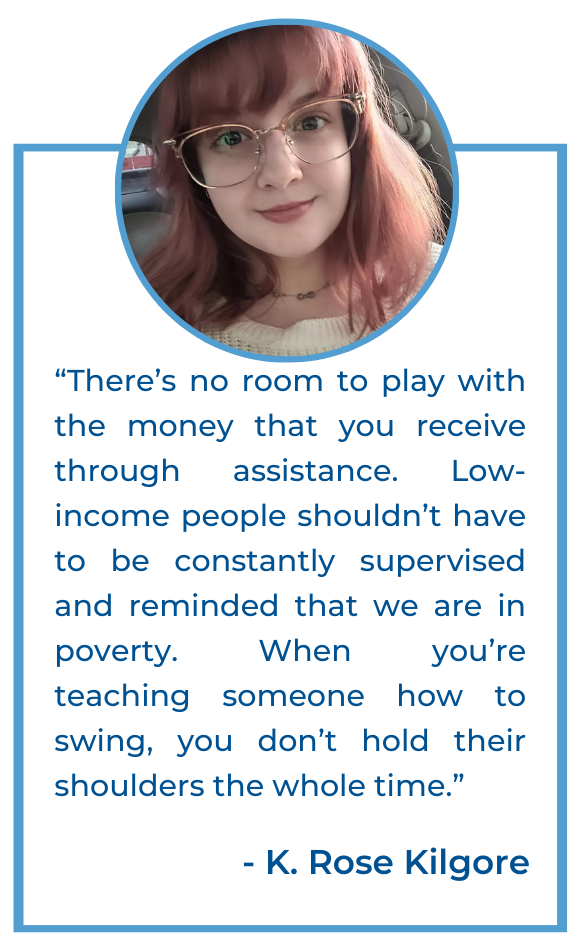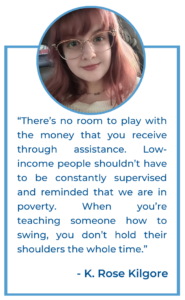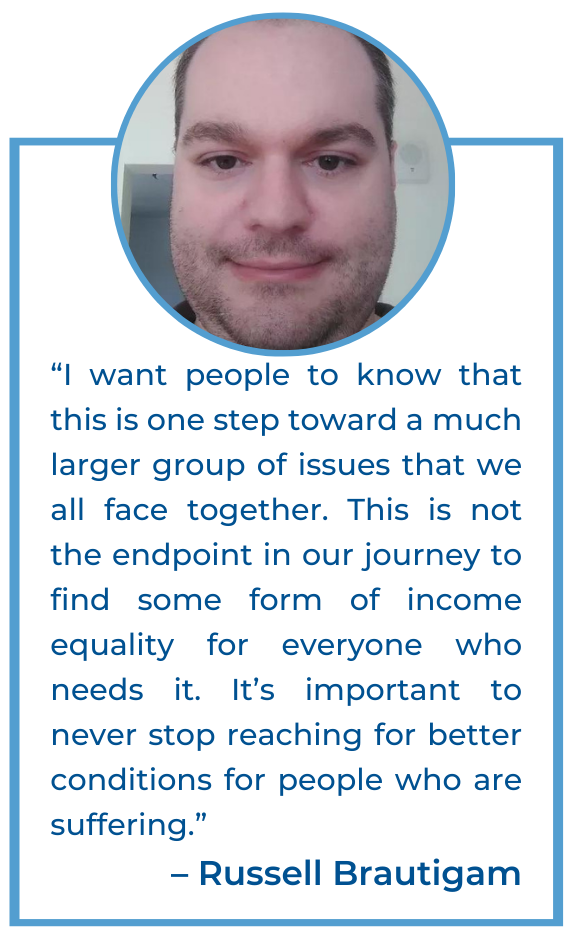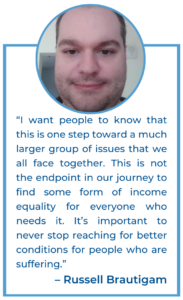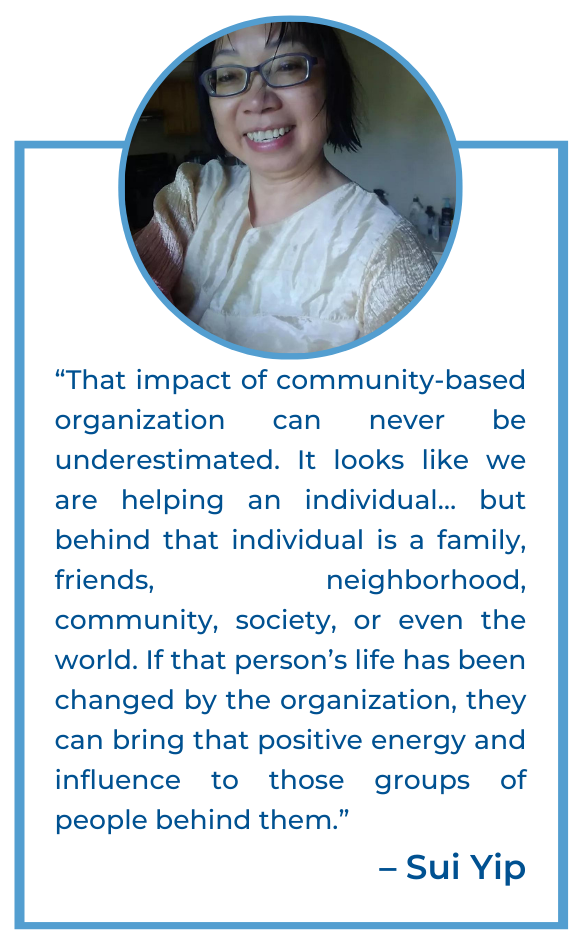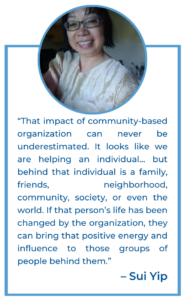 Panelists added needed perspective to the overall conversation, challenging everyone to remember what is really being discussed when debating the nuances of basic income programs – the individual and their ability to ensure their basic needs are met. But they did something else, they provided a hopeful outlook for society, pointing to a near future where no one is stigmatized and everyone gets an equitable chance at being thriving, productive members of a community.
Looking to the Future
At UWBA, our mission to build a better, more equity-driven, and inclusive Bay Area means we actively have open dialogues about emerging strategies to disrupt the cycle of poverty. Guaranteed Income in practice is showing favorable results for doing just that and we look forward to continuing the discussion with the community and our partners on best practices and how this can be one of our many tools in the fight to end poverty.
UWBA will be hosting more town halls and convenings like this in the very near future and we want you to join us. Please consider subscribing to our newsletter to find out when the next opportunity to take part in the conversation.