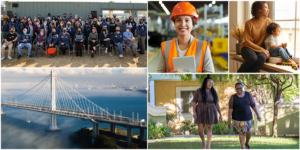 AMIDST RISING HUNGER, INCOME DISPARITIES, AND HOUSING INSECURITY IN THE REGION, UNITED WAY BAY AREA UNVEILS OUR NEW STRATEGIC PLAN.
By Kevin Zwick, CEO
United Way Bay Area helps families struggling with hunger and housing insecurity, assists students and workers seeking employment and better careers, aids residents facing wildfire and other disasters, supports our neighbors working to achieve their financial stability goals, and advocates for housing justice for all Bay Area residents. Since joining the team in the summer of 2020, our frontline support for vulnerable neighbors has taken on greater urgency through the pandemic. The Bay Area is my longtime home, and I love it, but we face real problems in our community: racism, xenophobia, and a lack of opportunities that make this a region where some are doing great, while others struggle to get by.
With 1 in 4 people living in poverty in the Bay Area, we must tackle persistent poverty, racism, and inequities throughout our communities head-on. These are big challenges, but ones we cannot shy away from. How can we dismantle poverty and rebuild for equity?
Today, our team is sharing our new strategic plan, which aims to help one million people meet basic needs and access pathways to prosperity by June 2025. Together, we will respond, recover and rebuild as we work toward an equitable Bay Area where all people have the opportunities and resources needed to thrive.
I'm excited to share that we are:
● sharpening our focus on racial equity in order to address the root causes of poverty,
● expanding on our housing justice initiative to address a key driver of poverty, and
● deepening our work in communities throughout the Bay Area that are disproportionately impacted by systemic racism.
But we can't do this alone. A spirit of community, collaboration, and United Way Bay Area's deep community connections spanning nearly a century will help us reach our goals. UWBA mobilizes the Bay Area to dismantle the root causes of poverty and build equitable pathways to prosperity. In order to meet rising demand for services, we will need to increase annual fundraising to $30M by 2025 — a 35% increase each year for the next three years. UWBA is also recruiting new members for our Board of Directors and Advisory Council, which focuses on United Way Bay Area's programs and impact, the communities we serve, and increasing awareness and support for our work.
Through this new Strategic Plan, United Way Bay Area will be more impactful, more regional, more financially stable, more equitable, effective and anti-racist in our operations and practices. I am excited to share the plan with our community as we launch into our centennial year and I invite everyone to join us on this journey into our next century of impact.
-Kevin
Download a full copy of United Way Bay Area's Strategic Plan: DISMANTLING POVERTY. REBUILDING FOR EQUITY (PDF)
Residents seeking assistance are encouraged to call or text 2-1-1 to be connected to a specialist for personalized assistance or visit 211bayarea.org.