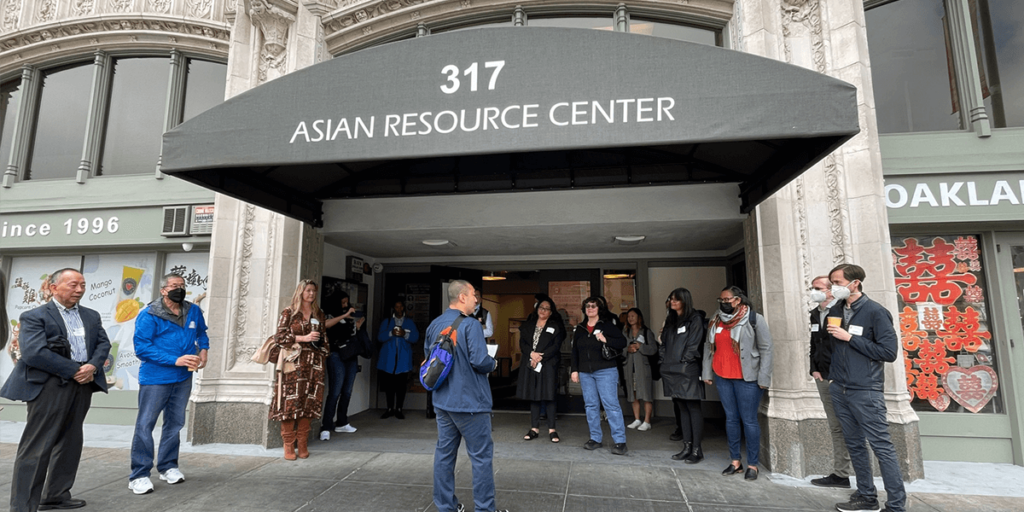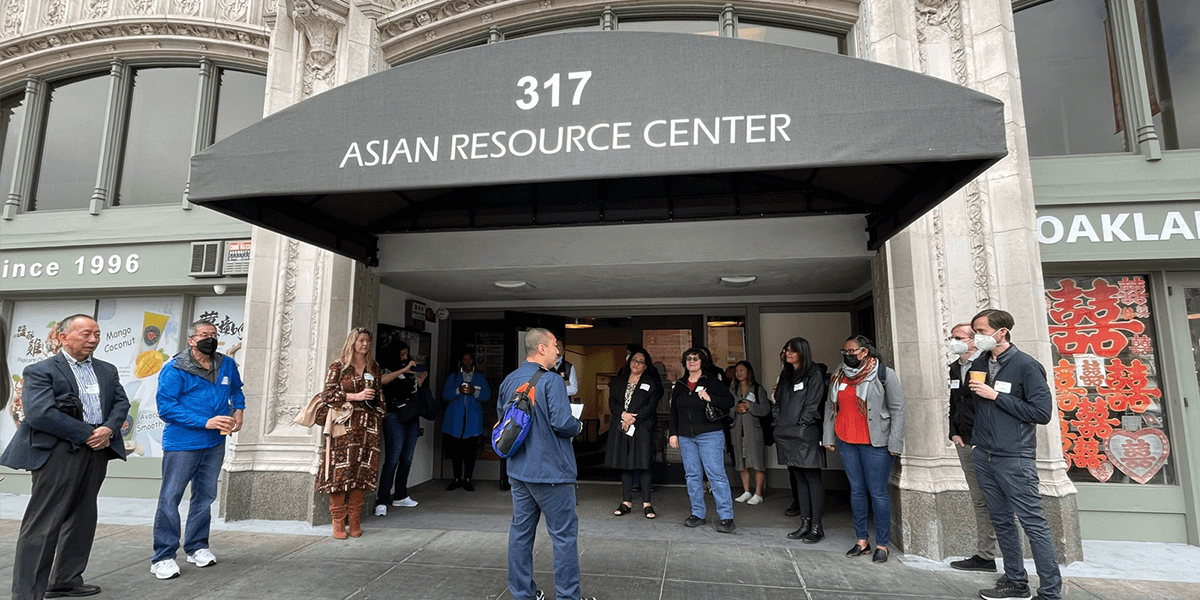 Give Today
Reflecting on the history of long-time UWBA partner, East Bay Asian Local Development Corporation.
In 1975, a group of recent grads from UC Berkeley, along with community leaders and activists in Oakland's Chinatown, said "enough is enough." The rise of an unchecked building boom, hastened by freeway construction that snaked through communities of color, resulted in the demolition of over 10,000 homes and apartments.
Then there was BART. After using eminent domain to seize property and build the Lake Merritt BART station, BART's next plan was to demolish the Madison Park Apartments – a historic 1908 building housing Chinese American families – to build its headquarters. The apartments were built shortly after the 1906 earthquake and the Great Fire in San Francisco, when racist housing policies forced Chinese Americans fleeing the devastation into a tent city near Lake Merritt.
When BART proposed demolishing the apartments, a burgeoning organization, then called the Asian Resource Center (ARC), put a stop to that. In so doing, the organization successfully grew from being a nonprofit hub for community service into becoming a major player in affordable housing. A new organization was born, and the Madison Park Apartments were saved.
Today, the East Bay Asian Local Development Corporation (EBALDC) owns and manages approximately thirty commercial and residential properties, which provide about 2,000 residents with affordable and transitional housing. EBALDC's properties include Avalon Senior Housing, Hisman Hin-Nu Terrace, Lillie Mae Jones Plaza, and many others. In addition, EBALDC provides community support services to thousands of other people in the East Bay.
"Housing isn't the only thing that helps someone thrive," explained Vicki Shu, Director of Development and Communications at EBALDC. "They also need the support systems, and that's where resident services come in."
These services include those provided at SparkPoint, a program developed by United Way Bay Area, which now has 23 locations throughout the Bay Area. SparkPoint Oakland, which is managed by EBALDC, seeks to build financial health and increase access to well-paying jobs for all Oakland residents. Like all SparkPoint locations, the one at EBALDC utilizes a coaching model to help individuals set goals for themselves, such as improving their credit score or going back to school. Coaches provide them with tips and tools for success and, if needed, referrals to other agencies for basic essentials.
This was particularly important during the pandemic, when thousands of East Bay residents, many of whom lived paycheck-to-paycheck, were suddenly without stable income. Thanks to EBALDC and SparkPoint, individuals and families could find out how to get help with the bills, where to find fresh produce at the local food bank, how to get laptops for their kids, and all of the other critical needs that became paramount at the height of COVID.
"What the pandemic really highlighted was EBALDC's role as a community anchor because of all this work we've done over the years with community members and residents, and knowing who the players are," said Shu.
Now, the focus for everyone at SparkPoint has shifted. People want to get back on track with finishing degrees, helping parents, finding affordable childcare, the list goes on. The goal, said Shu, is to support clients in shifting their thinking from an emergency mindset to long-term planning.
At the same time, EBALDC is shoring up its roster of affordable housing as they work to help Oakland Chinatown reopen fully as a vibrant, culturally rich, and inclusive business district and community.
We stand strong with EBALDC and celebrate the AAPI heritage of our neighbors in this unique and special place. EBALDC's inspiring contributions to communities throughout the East Bay cannot be overstated.
As part of our Centennial, we are celebrating historic partners of United Way Bay Area. Read more Centennial content in our blog section.