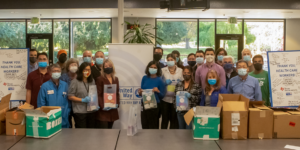 This past November, UWBA partnered with Texas Instruments for another successful Week of Impact. Each year Texas Instruments celebrates a Week of Impact as an opportunity for staff to volunteer and give back to their communities. In November, Texas Instruments used their Week of Impact to honor front-line workers for all of their hard work the last two years. United Way Bay Area worked with Texas Instruments to host an event as part of the Week of Impact. The event took place at the Texas Instruments Campus in Santa Clara with goodie bags going to the San Jose Fire Department Battalion Stations and the Santa Clara Valley Medical Center's Vaccination Sites. UWBA was able to distribute 500 goodie bags filled with treats and items aimed to help with stress relief.
Throughout the various stages of United Way Bay Area's growth, Texas Instruments has been a vital corporate partner. They have partnered with us through the expansions of our most successful programs, organized webinars in partnership with our federated agencies, as well as supported our Board and Advisory Councils, leadership giving, and volunteer events around the South Bay.
It is through their partnership that UWBA has been able to expand some of our most successful programs. Their transformative gift in 2017 helped support two milestone locations in Silicon Valley for our SparkPoint programs. Over the last two years as the pandemic impacted our communities, Texas Instruments supported our COVID-19 Community Relief Fund in 2020 and partnered with us again in 2021 to help support healthcare workers in Santa Clara County during TI's Week of Impact.
As corporate members of the Bay Area, Texas Instruments has been a vital part of supporting the community and United Way Bay Area's mission to disrupt poverty. We appreciate our long-held relationship and excitedly look forward to what the future holds for both our storied organizations.