Women United proudly hosted its first live event since 2020: The Spring in Her Step.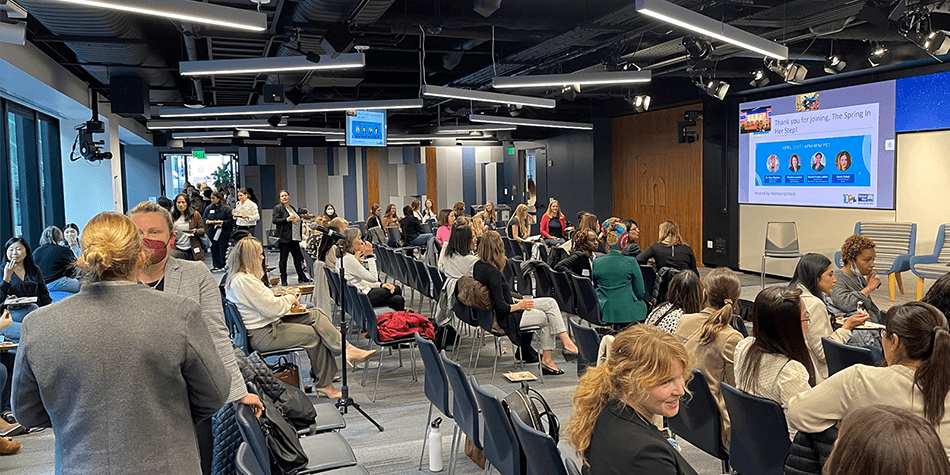 This springtime networking event brought 120 attendees in-person to LinkedIn's iconic San Francisco office and featured a women panel and "not-so-silent" auction. The group wanted to create a space for like-minded women to connect, a pillar of Women United's mission, and uplift and empower attendees by showcasing a panel of female leaders.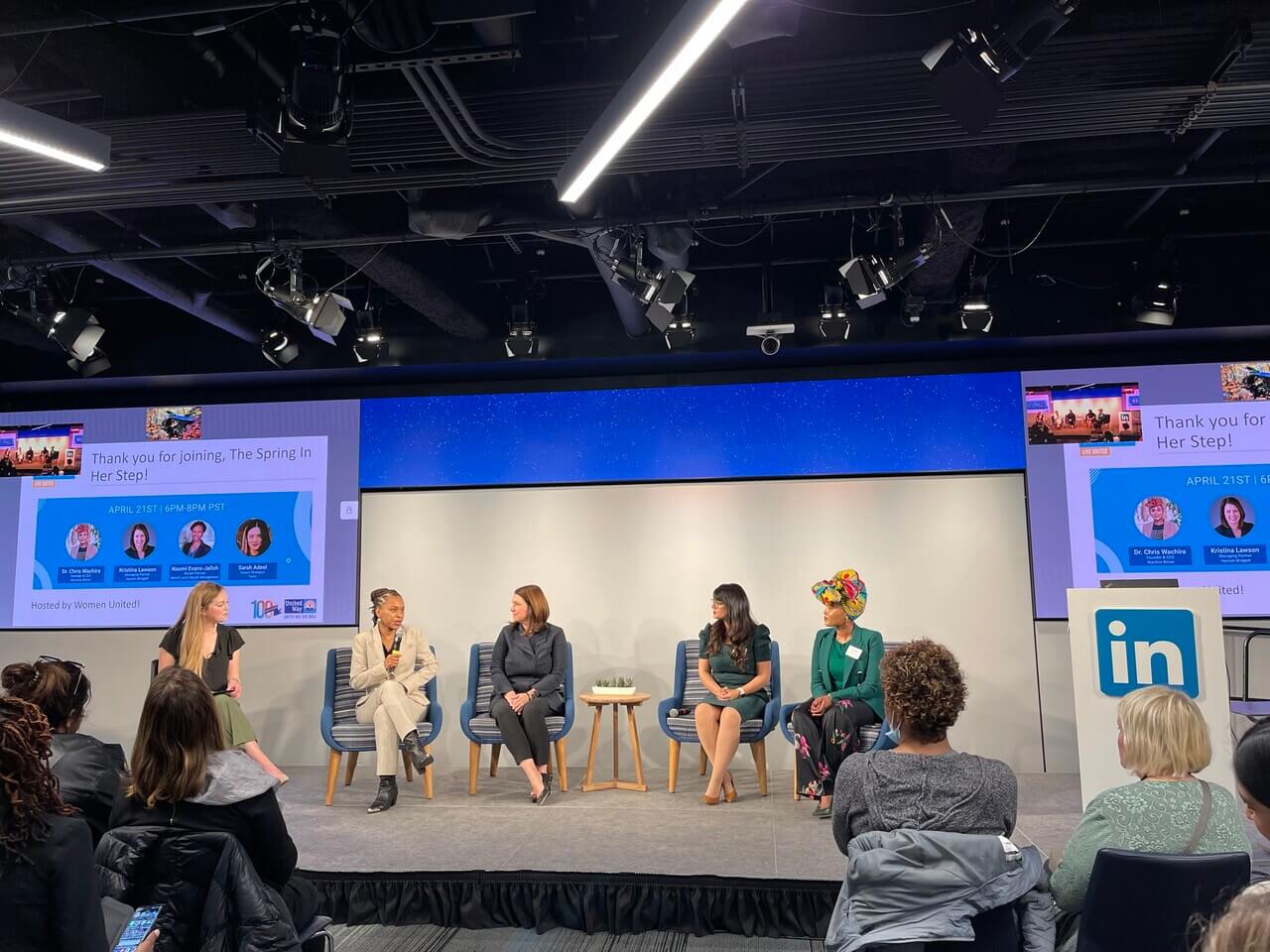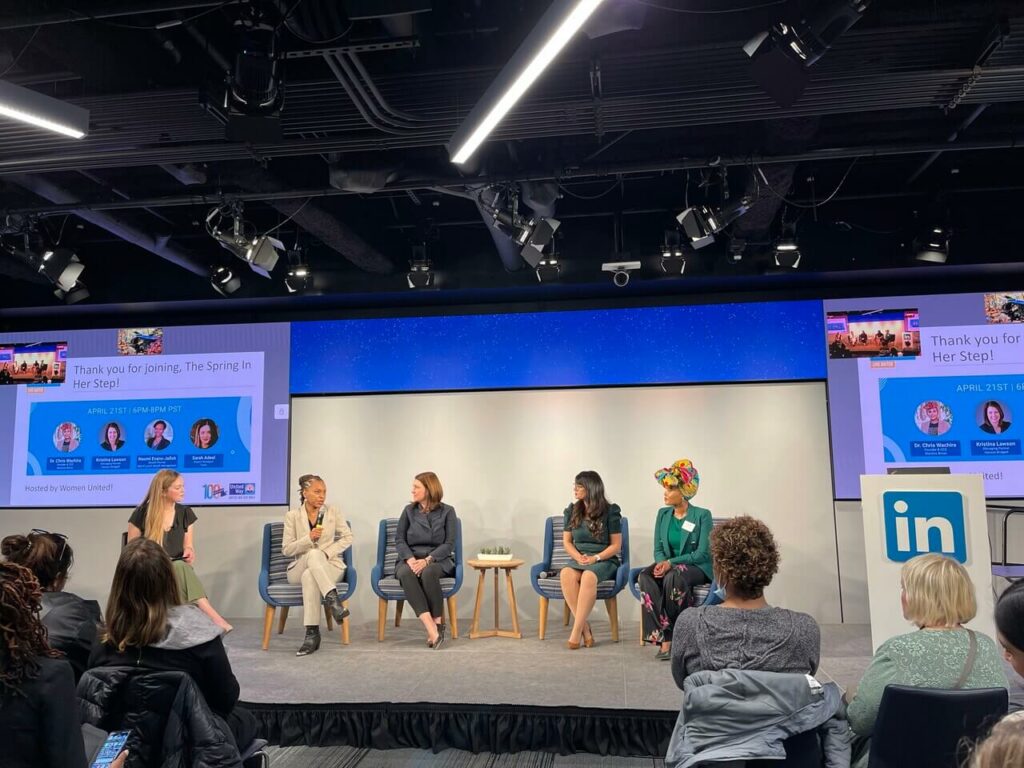 Our dynamic panel of speakers inspired spontaneous cheers throughout the audience as we learned how they overcame challenges toward becoming industry leaders. Women United member, Vanessa Diaz Lark shared, "After an incredibly tumultuous few years, and with many reevaluating career and life choices, I found it so beneficial to connect with others to share our journeys and ambitions." The panel of speakers was especially inspiring, women from diverse backgrounds and industries putting on full display what excellence looks like. Both as an attendee and as a member of the Steering Committee, "I took so much away and am excited to support the next series." Although the speakers represented diverse career backgrounds, the struggles they each faced were similar and also mirrored those of attendees who drew inspiration from their stories. We thank our esteemed panelists: Dr. Chris Wachira, CEO and Founder and Wachira Wines, Kristina Lawson, Managing Partner at Hanson Bridgett, Naomi Evans-Jalloh, Wealth Planner at Merrill Lynch, and Sarah Adeel, Impact Strategist at Twilio, led by moderator Mary Young, Customer Success Manager at LinkedIn.
After listening to the empowering speakers, attendees made new connections across the room. For some, it was their first time meeting colleagues in person, while others used the chance to work in the office for the first time since the pandemic. LinkedIn's office space was an ideal location that allowed people to network while enjoying catered food and local wines. While Women United held virtual networking events such as their annual Galentine's Day, this event fulfilled a special need for those who crave interactive connection by bringing people together in person for the first time since 2020.
A resounding success, this event raised over $8,000 to support Women United's goal of raising $20,022 for the SparkPoint Ambassadors. The goal's figure is a nod to UWBA's Centennial in 2022. The event raised funds for United Way Bay Area's SparkPoint Ambassadors, a program that enables SparkPoint clients who are making significant strides toward financial stability and life goals to participate in this powerful community ambassador program.
We would like to thank local businesses and supporters who donated to the silent auction including:
Barbara and Jeff Bennett
Dry Creek Vineyard
Hanson Bridgett LLP
Kendra Scott
Let's Roam
Louise and Christian Willard
Marlena Restaurant
Mendocino Farms
Newton Vineyard
PepsiCo
Robindira Unsworth
The Ready State
Toshonna Ross
Urban Market Bags
Zola Palo Alto
If you are passionate about helping to break the cycle of poverty in the Bay Area alongside Women United, we would be delighted to hear from you!
Please contact us here to learn more.