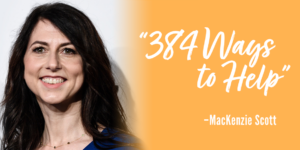 Author: Ena Yasuhara Li
Tis the season for thank you notes. As we start the new year, many of us may be writing thank you notes to acknowledge the kind and generous gifts received over the holidays. One gift, now received over a year ago, continues to fill me with hope and gratitude on a daily basis. So, before I write another thank you note, I needed to sit down and write this one.
Back in December of 2020, our CEO Kevin Zwick invited all United Way Bay Area staff to join a "Quick call with some exciting news…" $20 million. No strings attached. Three simple reports annually. We could spend it on anything we wanted, in whatever timeframe we chose. Completely unrestricted. I had never heard of such a generous, transformational gift.
In her Medium post, "384 ways to help" MacKenzie Scott wrote about the $4,158,500,000 in gifts she gave to 384 organizations across all 50 states, Puerto Rico, and Washington, D.C. United Way Bay Area (UWBA) was included in the list of organizations addressing the basic needs of the most vulnerable community members to those addressing long-term systemic inequities that have been exacerbated by the COVID-19 pandemic. She also wrote about the hope that this had given her.
Looking back at this moment, I am reminded by the sense of hope that this news brought — hope for UWBA and, more importantly, for the communities we serve. In the midst of this pandemic, it was a beacon of hope. We were chosen among 6,490 organizations that MacKenzie Scott's team researched. For me, it reaffirmed the importance of the work UWBA had been doing for almost 100 years and provided a new level of excitement about the work ahead.
The impact that this had on our organization, our staff, and most of all, our community members — it simply cannot be overstated. In laying out a plan to maximize this transformational impact, we surveyed staff, spoke with our Board and Advisory Council members, and conducted multiple internal discussions. We first prioritized the urgent needs of our community, still reeling in the wake of COVID-19 and regional wildfires. Our next most pressing need was to address Bay Area housing inequities more meaningfully by launching a new Housing Justice Initiative. With those two needs addressed, we were able to make key investments in organizational capacity as we enter our second century of service, including a strategic plan to guide us through 2025 and more focused work on diversity, equity, inclusion, and anti-racism.
As always, we cannot do this work alone. Our network of community partners is essential to maximizing impact, and we wanted to ensure the boost of hope we received was also felt by our partners. To date, we've distributed $2,693,400 in funding to 21 partner agencies:
Community Services Agency of Mountain View
LifeMoves
Sacred Heart Community Service
The Salvation Army, A California Corporation
St. Joseph's Family Center
Sunnyvale Community Services
West Valley Community Services
Catholic Charities East Bay
SF CLOUT
UpValley Family Centers of Napa County
On the Move
Richmond Community Foundation (RCF Connects)
Community Action Marin
East Bay Asian Local Development Corporation
Fremont Family Resource Center
San Jose Evergreen Community College District Foundation
Children's Network of Solano County
Samaritan House San Mateo County
Community College District, Cañada College
San Mateo County Community College District, Skyline College
San Mateo County Community College District, College of San Mateo
This included $985,000 in funding to our Emergency Assistance Network and Emergency Food and Shelter Program partners for rental assistance and additional capacity; $1,260,000 in funding for rental assistance to SparkPoint clients and families; and $448,400 in funding to support additional needs we've seen due to the economic impacts of COVID-19 to SparkPoint Centers throughout the Bay Area. Together, we have been able to deliver urgent support to over 15,000 individuals to date.
One such individual is Linda, who came to our partner agency, Catholic Charities East Bay, for assistance with her family's rent. This Latino family of 5 needed help to stay housed and avoid eviction. Linda's* husband tested positive for Covid-19 back in December 2020 and has had his work hours reduced ever since that time. Due to immigration status, Linda's husband did not qualify for emergency financial benefits. Linda also witnessed a traumatic event in July 2020 at the grocery store where she worked and has not been able to return to work. Linda's family needed help catching up on their back rent after they exhausted their savings. Owing June through August 2021 rent in the amount of $4,950.00, Catholic Charites leveraged funding from the United Way Bay Area Rental Relief Fund to cover the family's rent debt and avoid eviction. Linda's husband has since found a full-time job and the family has been current on rent since they received the financial assistance in August 2021.
Powerful stories like Linda's keep me going. They give me hope. And yet there is so much more we need to do. Though we've only just begun to realize the impact of this incredible $20 million gift, it has already been a game-changer. We went from wondering how we would raise enough funds to meet the increasing needs due to the pandemic, to being able to think strategically about how to accelerate our community impact. We went from having to make tough choices about which nonprofit partners to support, to increasing our support so they could address the greater food and housing needs that have arisen due to the pandemic. We went from wanting to respond to the community's request to launching a Housing Justice Initiative to address the housing crisis. We went from responding to acting. We were able to breathe, and dream.
We can't thank MacKenzie Scott enough. Her generous gift is making a difference in the lives of thousands of Bay Area residents. As we approach our Centennial, she has given us the most valuable gift of all – hope – that we can continue to make more equitable pathways to prosperity accessible to every member of our community.
Learn more about United Way Bay Area impact areas, programs and funds
*Linda's real name has been changed to protect her privacy.