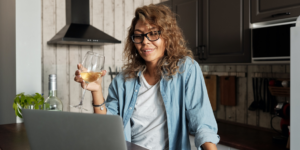 Women United celebrates Galentine's Day with a virtual wine tasting to raise funds for SparkPoint.
By: Channa Sweet
Galentine's Day, was created as an unofficial holiday as a way for women to celebrate their female friendships. It's a day to recognize how women uplift each other, which is what Women United was built on. Comprised of a diverse group of women leaders, Women United is dedicated to uplifting women and children in need out of poverty. Furthermore, it is also a platform for women to connect with other like-minded women, for support and comradery in creating change in their communities.
To raise a glass to the various ways Women United builds female community, the United Way Bay Area chapter of Women United hosted its second annual Galentine's Day on February 17th. This virtual fundraiser was supported by nearly 50 Bay Area women interested in social impact. Whitehall Lane Vineyards owner Tom Leonardini led the group in an evening of wine tasting selections from the brand. Participants then engaged in small groups sessions to meet one another, which were full of fun facts and laughter. With the support of these Galentine's Day participants, Women United is pleased to announce that $8,400 was raised from the event to support UWBA SparkPoint centers, a significant increase from the previous year.
SparkPoint centers are one-stop sites where individuals and families in need can access a full range of integrated financial stability services. It is one of the many programs UWBA has to support and provide resources for women and children in the Bay Area move out of poverty. Speaking to her first-hand experience was SparkPoint Ambassador Sui Y who shared, "I have a new life from SparkPoint. I see things from a new perspective, gained back the courage to admit the mistakes I made, and gained the willingness to fix them and moved on." We are grateful to Sui for inspiring us with the courage to share her story.
If you are passionate about helping to break the cycle of poverty in the Bay Area and interested in being part of Women United, we would be delighted to hear from you! Please contact us at WomenUnited@uwba.org to learn more.