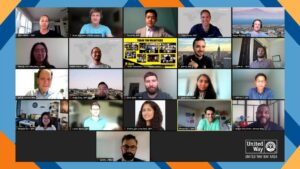 Simon-Kucher & Partners, a leading global consultancy firm, partnered with United Way Bay Area to connect with communities across the United States in the Simon-Kucher & Partners Week of Service. Simon-Kucher & Partners has a long history of serving communities in various cities around the US. For 2021, SK&P joined with United Way for our Week of Service to volunteer with the communities of the Atlanta, Bay Area, and Boston. More than 65 volunteers engaged both youth and adult attendees in five unique opportunities between June 14th and June 18th.
United Way of Massachusetts Bay and Merrimack Valley paired 10 volunteers with a group of 25 7th graders from Lilla G. Frederick Pilot Middle School to act as consultants and guide the students through a process of product development. The Entrepreneurship Business Consulting session culminated with student groups developing and delivering product pitch presentations to a Simon-Kucher & Partners volunteer panel for feedback
United Way of Greater Atlanta held a Virtual Professional Development Workshop that provided displaced youth and young adults with the valuable opportunity to connect with Simon-Kucher & Partners volunteers. 21 volunteers shared their wisdom, expertise, and guidance through a panel discussion, Q&A, and interactive activities. The more than 50 youth attendees acquired skills and tangible resources that will help them to obtain gainful employment moving forward.
Through a partnership with the East Bay Asian Local Development Corporation (EBALDC), and the Hidden Genius Project, United Way Bay Area hosted a Virtual Career Exploration Workshop in which 15 Simon-Kucher and Partners volunteers introduced a group of 31 youth to the world of business consulting. The volunteers led the students through an interactive activity that taught them about menu engineering, optimizing price levels, regional pricing, and bundling. The workshop wrapped up in a fun game based on the TV show "The Price is Right".
United Way Bay Area also provided our local SparkPoint center clients with the chance to meet with Simon-Kucher & Partners staff in a Virtual Career Panel Workshop and Q&A. Volunteers and clients connected in intimate and informal breakout sessions and engaged in a lively career-focused dialogue. The session empowered clients and provided them with career-building resources. "I really like how informative everyone was" – SparkPoint client attendee
Throughout the week, volunteers composed 255 encouraging cards that were sent to seniors in the community through a UWBA emergency food and shelter partner, as well UWBA SparkPoint program clients.
"Thank you Simon-Kucher team for your volunteer efforts. These projects would not have been so successful without your unwavering participation and positive energy. We truly appreciate you all for being committed to helping Bay Area, Atlanta, and Boston children and families. We hope that you enjoyed your virtual visits and learned more about our organization and how you can better connect with our mission."  – Anton T., Sr. Director, Community Engagement
In a year riddled with unprecedented challenges, I could not be prouder of the work our volunteers have contributed to Simon-Kucher & Partners Week of Service. Thank you again for your efforts. I look forward to growing the program with even more volunteers and more nonprofit organizations served next year.
We at United Way Bay Area would like to express our immense gratitude to all the Simon-Kucher & Partners volunteers, our colleagues at United Way of Massachusetts Bay and Merrimack Valley and United Way of Atlanta, and our local partners for an incredibly successful and impactful Week of Service.