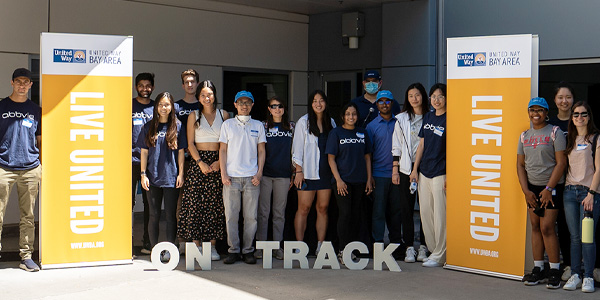 Pathways to Prosperity Start Here!
On June 10, 2022, UWBA Youth Workforce held its annual On Track Career Expo, bringing together approx. 50 Career Coaches and demonstrators, and staff volunteers to help over 100 youth find pathways to economic and career success that many had not previously considered; meaning more Bay Area youth received the chance for equitable access to economic success and career development resources.
Combating poverty is not only about finding solutions to meet the needs of the moment, it also means addressing the barriers of tomorrow by investing in the future of our communities today. When United Way Bay Area held its annual On Track Career Expo, both corporate and non-profit partners were onsite investing their time and talents to welcome youth from across the Bay Area.
On Track is a Youth Workforce event helping young people discover educational and career pathways to which they may not have otherwise been exposed. Approximately 150 Bay Area youth, through UWBA partner organizations Union City Family Center, East Bay AsianLocal Development Corporation (EBALDC), VOICES Youth Programs, and the San Jose Conservation Corps + Charter School, gathered at San Jose City College to get to know each other, have fun and explore the opportunities presented. This year was the first in-person expo to take place since the start of the pandemic in 2020 and in many ways a welcomed reprieve from the isolation and virtual nature of the previous year. As such, COVID health and safety precautions were encouraged and observed for the duration of the event.
WATCH THE VIDEO

INVESTING IN FUTURE SELVES
One of the greatest opportunities On Track provides, is the chance to visualize a pathway to prosperity by meeting with industry professionals who believe in supporting the community by investing their time and knowledge in its youth. This year, participants were able to meet with companies like US Bank, SolarEdge, Valero, and Downtown Screen Printers, as well as organizations like AbbVie and the San Jose Fire Department.
Students also had the chance to speak with representatives from Bank of America and have brief but detailed conversations about a topic that many do not get to talk about at a young age if at all –financial literacy. Understanding how money works and even some basic principles for managing finances are key, whether it is navigating educational costs like tuition and supplies, or just opening and maintaining banking accounts. These conversations can have a profound impact on the trajectory of a young person's future when they are had early and often.
WIN WIN FOR COMPANIES
Investment in youth is also a big benefit to companies and organizations in the way of early recruitment and community engagement. Some corporations remain connected to youth in the community by supporting Youth Workforce, like JP Morgan Chase, whose efforts make events like On Track possible. Others begin building relationships directly with students onsite, as they begin to transition out of high school and into college, who are interested in internships and working in their respective fields. There's even the chance for career coaches themselves to be inspired by the youth.
Jennifer Montes De Oca, with Bank of America, describes her a-ha-moment. "For Bank of America, it's a really big thing to support a community," she says."The best way to do that is to be present. I'm Mexican, and I speak Spanish fluently. But not just that –the branch I work at, that's all we speak about throughout the entire day. If we didn't have people like her that want to develop their culture further, we wouldn't be able to help those clients. That's my day every day. So, it's really encouraging to see the youth wanting to continue that."
Representation is also a big factor with On Track. It is important for youth attendees to see people that resemble themselves in the careers they want to be in so they can visualize equitable access to their chosen path. Having adults that understand where they are coming from gives the motivation to follow their plans and the confidence that those goals are indeed achievable.
ALL WORK, BUT ALSO PLAY
On Track 2022 wasn't just about making career connections and opening new pathways to success for youth, it was also about having fun while doing it. Attendees were able to interact with their peers, receive custom printed t-shirts, were treated to amazing food truck catered lunch, and have the chance to win several prizes being raffled throughout the course of the event.
While the event was a good time for all, the value of having partners from the nonprofit sector, the corporate sector, and Bay Area youth cannot be understated. Hosting events like On Track, build on the work UWBA and partners are doing to close the gap of employment accessibility and is part of our key impact areas in the fight against poverty. When we do this, when we provide clear pathways to prosperity and to achieving career goals, we also provide opportunities for financial stability for our youth.
Bringing people from all walks of life into shared spaces to spark community change has been a guiding principle for a century. Looking ahead to our next century of impact, we encourage more corporate companies and organizations to partner with us and invest in our Bay Area youth, to fight poverty now and for generations to come by going to our website for more information and signing up to join us at the next On Track event.