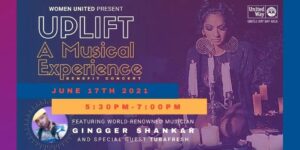 Attending a private concert from the comfort of your own home was a novel idea until 2020. Once the pandemic struck, musicians across the country embraced their creativity and came up with a solution to continue spreading the joy of live music. This new style of virtual concerts flourished as fans enjoyed live musical performances streaming to their homes.
United Way Bay Area's (UWBA) Women United is a group of women with a passion for giving back to their community who also share a deep appreciation of music. Based on shared interests, a unique collaboration sparked that intertwined their love of music and social impact. World renowned musician Gingger Shankar was joined by Tubafresh, Daniel French, Todd Simon, & Mona Tavakoli in an exclusive concert dedicated to UWBA's SparkPoint Program. This virtual fundraiser raised more than $4,000 to support the Ambassador program, providing comprehensive professional development training for program clients and expanding the number of eligible ambassadors. Ambassadors Jess Hudson and Rachel Kelly courageously spoke about their journeys of overcoming personal battles to provide for their children and be a light to others.
Headliner Gingger Shankar is a composer, producer, songwriter, and the only female double violinist in the world, most recently performing at the Nobel Peace Prize Summit. She was joined by Tubafresh (Chanell Crichlo) who resides and composes music in Los Angeles using vocal falsetto, horns, and synths. Additionally, the two artists were joined by the talents of Mona Tavakoli, Daniel French, and Todd Simon for a spectacular and memorable performance. The audience was treated to an intimate Q&A session with Gingger and Chanell, learning about the backgrounds of the inspirational women and what motivates their passion as musicians. "My 1-year-old son danced along to the infectious beat of the music and we enjoyed our first concert together", remarked Jennifer Chen, a Women United Steering Committee member.
Alongside a virtual wine-tasting fundraiser in February, the benefit concert completes the group's commitment of raising $10,000 for the SparkPoint Ambassador program this year! Women United hosts networking events, educational webinars, exclusive volunteer events, and actively participates in advocacy efforts. Learn more about joining this group.